Scavenger hunt results and some other stuff
Hey everyone,
Thanks to those who participated in the scavenger hunt! I received eight submissions of legally parked delivery trucks. The winning submission belongs to...Bee Cambell, with this beauty from Greenpoint: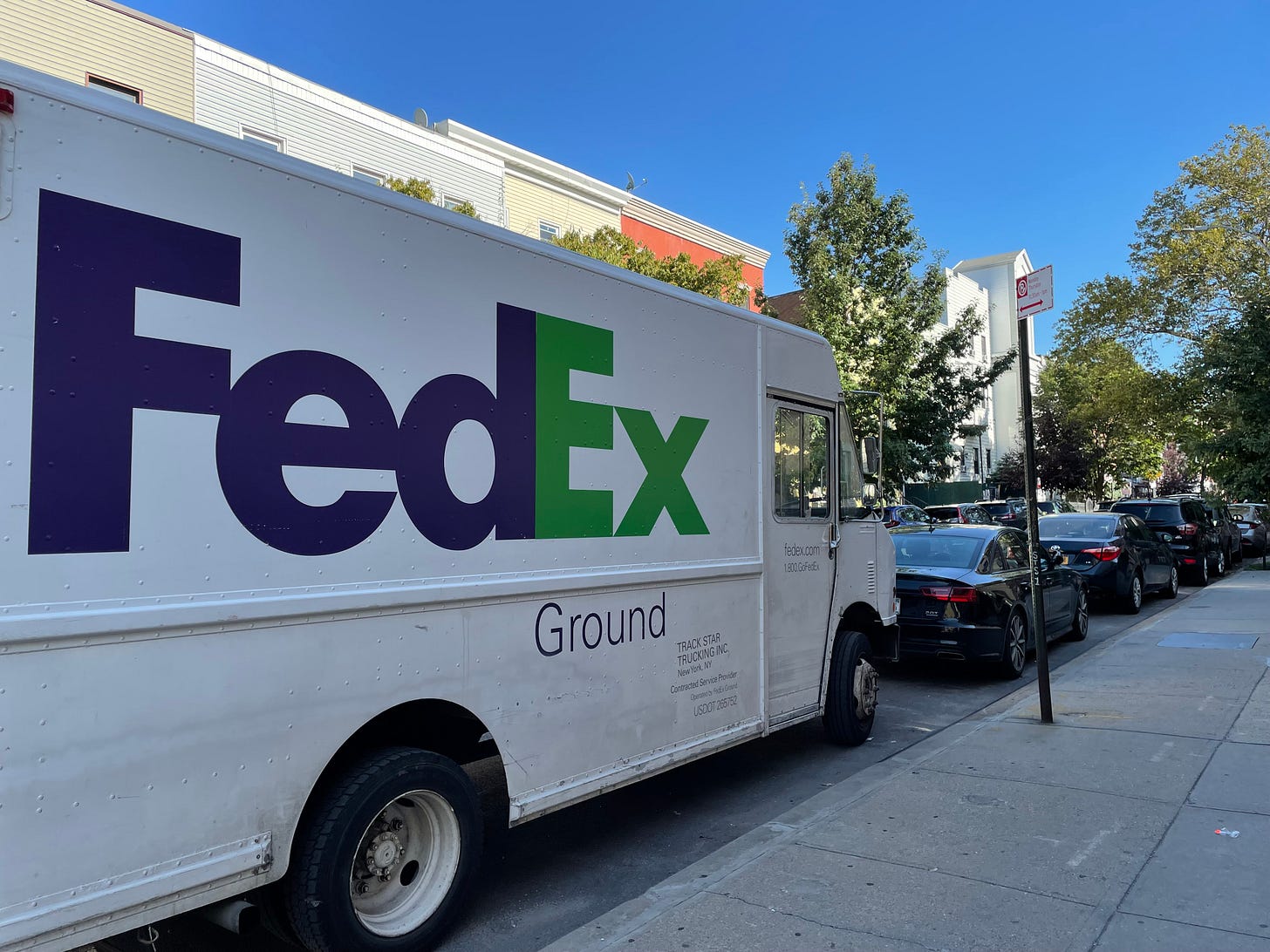 Never thought I'd see the day. A future Urbababble will be on the subject of Bee's choice. Let me know when you've made up your mind, Bee!
Maybe I'll do another one of these scavenger hunts again sometime. Or not. Who cares.
Some Stuff I've Written
I started working on this story about Tesla Full Self-Driving beta testers because a clip one of them shared went viral and I thought, I wonder how these people feel about that. I figured it would be a pretty straightforward story. But none of them would talk to me, citing some NDA they had to sign with Tesla to be beta testers. What a strange type of NDA, I thought, that lets them post extensive videos all over the internet but not talk to the media. In any event, the story published, it got picked up elsewhere, Elon Musk got asked about it at some conference, and he said he doesn't know why they have an NDA and that the beta testers don't listen to it anyways. Elon knows why they have an NDA because the NDA parrots all of the same anxieties and talking points he has been saying for years. And he knows what he said isn't true. The NDA encourages beta testers to post videos and heavily implies those videos should make Tesla look good; it also says testers can't speak to the media, a provision they take very seriously, because beta testers do not want to make Tesla mad. Yet other outlets dutifully reported that beta testers "ignore" Musk and the NDA—a laughable assertion for anyone who has ever spoken to a Tesla fanboy, much less a beta tester—because that's what he said, even though it's in direct contradiction to the actual text of the NDA I published.
I say all this not to beef with other outlets, but to make the following observation: it is often the people who excoriate "the media" the most, people like Musk, who most benefit from the media's institutional biases.

In other Tesla news, the company rolled out a "Safety Score," also in beta, that is a crude and dangerous version of what insurance companies have been doing for over a decade. Why is it companies can seemingly do anything they want as long as it's called a beta? Oh right, because they can also seemingly do anything they want even when it's not called a beta.

A bunch of non-peer-reviewed working papers earlier in the pandemic suggested public transit was a major factor in Covid's spread. I tracked down whatever happened with those papers and if they still support that finding. Turns out, there's a reason they're called "working" papers! And yet, media outlets are still citing them as if they haven't been re-written to no longer say what they used to have said. Friends don't let friends report on working papers.
It's stupid nice out in New York this weekend so I'm going to go enjoy that.
Later friends,
Aaron